In de Ban van Schilderen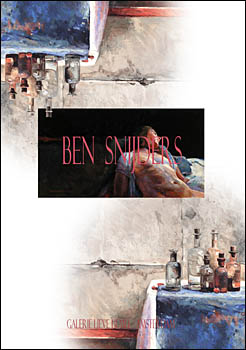 Deze catalogus is verschenen ter gelegenheid van de tentoonstelling van Ben Snijders, 22 september tot 21 oktober 2018, en is samengesteld en geschreven door Koen Nieuwendijk. (16 pagina's, 27 afbeeldingen in kleur, ISBN 978-90-70402-54-9)


D

e hechte samenwerking met Ben Snijders (1943) dateert al van 1978. Aanvankelijk was ik gefascineerd door zijn kleine minutieus uitgewerkte paneeltjes, maar alras bleek er in Snijders een schilder te schuilen die zich verbonden voelt met olieverf, in de breedste zin van het woord. Via zijn werk heb ik geleerd dat er geen grens hoeft te bestaan tussen abstractie en realisme. Ik kwam tot het inzicht dat die benamingen eerder een gereedschap behelzen dan een stijl, dat de grens tussen het fijne detail en het brede gebaar van grote penselen zich niet leent voor kwalitatieve maatstaven. U moet weten dat ik in die tijd ik behoorlijk fanatiek was, geheel gericht op precieze uitwerking en zonder belangstelling voor meer impressionistische technieken, en zeker wars van begrip voor abstractie. Echter, tot mijn verrassing ervoer ik die verbreding van mijn visie, geďnspireerd door Snijders'werk, als een opluchting.




O

nlangs las ik een boeiend artikel over de ontwikkeling van fotonische chips, waarbij elektronen zijn vervangen door lichtdeeltjes, een manier die snellere digitale communicatie mogelijk maakt (NRC 11-8-2018). Nou heb ik de neiging wetenschappelijke nieuwigheden met een romantisch waas te bedekken. Zo hoopte ik in deze context dat ik de verbindende schakel te pakken had tussen het vermogen van kunstenaars om mensen met geschilderd licht te betoveren en het proces waarmee mensen licht als zodanig ervaren. Want dan zou ik wellicht ook kunnen uitleggen hoe Ben Snijders zijn passie voor olieverf en terpentijn transformeert in een tafereel van licht en kleur, dat zich via onze ogen weer vertaalt in emoties. Maar ik mis een schakel, of eigenlijk een emmervol. Jammer, want ik had willen uitleggen dat een stilleven en een naakt sterk aan elkaar verwant zijn, dat een landschap tegen een plank met potjes aanschurkt, dat die indeling in hokjes alleen maar een kwestie van buitenkant is.




W

at weer niet wil zeggen dat ik me voeg naar het favoriete doelwit van het reddend deel van de kunstwereld, zoals dat ligt besloten in de mantra van de maatschappelijke relevantie, waarbij hokjesgeest een regelmatig terugkerend kernpunt is. Laat niemand overigens denken dat ik daar tegen ben, maar toch komt het me ook voor dat clichés en hokjes de fundamenten van een geoliede samenleving zijn. Ik moet er niet aan denken dat u en ik en allen die het beter weten niet meer kunnen terugvallen op een overzichtelijke indeling van de chaos die onze geest van nature teweegbrengt. Dat alles bracht me zodanig in de war dat ik enerzijds dacht te kunnen uitleggen dat Snijders zich in zijn schilderijen op een authentieke manier het ordenen van de chaos heeft toegeëigend, maar anderzijds zich met traditionele werktuigen juist opwerpt tot pleitbezorger van de vertrouwde wegen. Dat wil zeggen, u leest wat ik schrijf, u begrijpt wat ik bedoel, maar ik kan het niet bewijzen. Maar ik dwaal af.




H

et schildersleven van Snijders, dat is decennia van meanderen tussen stilleven en naakt, tussen het brede gebaar en het geduld voor het detail. Het is fascinerend om te zien hoe Snijders al die facetten in één schilderij weet te verenigen. Althans, dat ligt eraan hoe zijn tweestrijd over het wel of niet verder uitwerken, afronden en signeren of doorgaan, uitpakt. Maar wat heerlijk dat het nog bestaat: het plezier in het schilderen, de weldaad van smeuďge pasteuze streken, van concentratie gematerialiseerd in details, strak en trefzeker. Naast wat allemaal nog meer kan, en mag, en, wat drommel, soms zelfs lijkt te moeten. Ben Snijders, geboren in 1943, is een van de veteranen, waaraan de Academie Minerva in Groningen decennia lang haar reputatie van broedplaats van realistisch talent ontleende. Een schilder, die als een hedendaagse alchemist onaanzienlijke flesjes en potjes, dorre blaadjes en uitgedroogde bloemetjes, stof en wat kersensteeltjes transformeert tot een feest van olieverf, van licht, kleur, textuur en - welzeker - abstracte waarden, tot een vorm van schilderkunst die nooit verloren mag gaan. Wat zijn grote individuele klasse van onschatbare waarde maakt voor het kunsthistorisch perspectief.