Deze collectie bestaat uit schilderijen, voornamelijk van kunstenaars van de galerie, gemaakt en verkocht in de twintigste eeuw, en om uiteenlopende redenen weer op markt gekomen. Een tentoonstelling als deze - dit is de derde tot nu toe - geeft mij de kans om juist de kunstenaars, die al overleden zijn, en passant aan de vergetelheid te ontrukken, althans aan dat streven bij te dragen. En hij noodt tot reflecties.
In alle eeuwen zijn mooie dingen gemaakt. Hoe langer geleden, hoe moeilijker het is een collectie bij elkaar te krijgen. De vorige eeuw - ik blijf het raar vinden in deze termen te spreken, want ook een tijdsindeling is net zo verzonnen als een drielandenpunt, die aardbol van ons gaat uiteindelijk toch wel zijn gang - is nog heel dichtbij, dus het klinkt zwaarder dan het is. Toch, de schoonheid van dit samenraapsel is onmiskenbaar, en eigenlijk ook behoorlijk heden, maar dat kan ook aan mijn ogen liggen. Wat de vraag oproept wanneer het algemeen gevoelen gaat spreken over "duidelijk gedateerd", dus afwijkend van wat dat gevoelen als kenmerkend voor het dan levende bewustzijn van het heden beschouwt. Probeert u maar eens uit: als u de tentoonstelling bezoekt en u haalt zich deze woorden voor de geest, dan krijgt u geheid, desnoods op voorhand, dat hangt van uw leeftijd af, nostalgische gevoelens. En kijkt u, als u weer buiten bent, bevreemd naar de gewoonste dingen.


28 sept. - 25 okt. 2013
Catalogus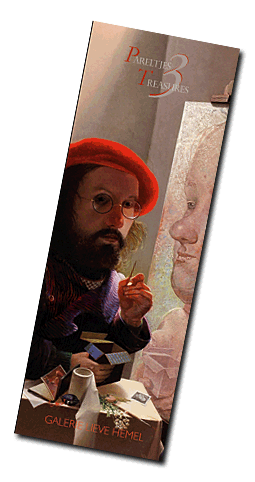 Last Century's Known and Unknown Treasures
This collection is made up of paintings (most of them by gallery artists) which were originally made and sold in the twentieth century and which for various reasons have since reappeared on the market. Not only does an exhibition such as the one at hand – this is the third of its kind – represent an opportunity for me in passing to rescue from obscurity those of the artists who are no longer with us, or at the very least make a concerted effort to help ensure that they should be remembered, but it also doubles as an invitation to reflect.
The creation of beautiful things is a thing of all ages. The longer it has been, the harder this makes it to compile a collection. Last century – it keeps striking me as funny whenever I find myself resorting to terms like this, the chronological order of things being as contrived a notion as the place where three countries meet, because at the end of the day our planet will continue doing whatever it needs to do regardless – is still quite recent, which makes it sound more dramatic than it actually is. And yet the beauty of this "mixed lot" is unmistakable, and pretty contemporary at that (but this may just be my eyesight). Which prompts the question as to when the general sentiment starts defining something as "clearly dated", or different from what it would regard as characteristic of the then prevailing awareness of the present. You can easily try this out for yourself by recalling these words when you visit the exhibition, and I guarantee that nostalgia will wash over you – possibly even beforehand depending on your age – and you will afterwards be looking at run-of-the-mill objects with a sense of wonderment.